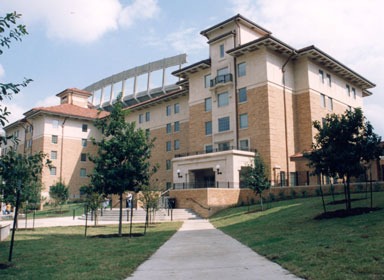 San Jacinto Residence Hall
309 E. 21st Street (
ES10 Map
)
Austin, TX 78705
Built in 2000, San Jacinto is one of UT's newest residence halls.

Check-In: Monday, June 7 -- 12:00 - 5:00 p.m.**
Check-Out: Thursday, June 10 -- By 2 p.m.

**You may check in at other times, but the residence hall will "staff-up" during the scheduled time to promptly receive and process arrivals.

There is no separate charge for lodging in the dorm for the nights of June 7, 8 and 9. Lodging for these nights in the dorm is included in your registration fee.


Reservations

Send an email to Robert Hoelscher (robert@ices.utexas.edu) with the following information:

Name

Arrival date (and estimated time)

Departure date

If you intend to share a room, name of 2nd person (if co-ed, must be spouse)

Additional information as necessary
NOTE
: All lodging for the workshop is provided by the San Jacinto Residence Hall. If you do not wish to stay at the residence hall, contact Robert Hoelscher (robert@ices.utexas.edu) for assistance.


Rooms

Each room is fully furnished with twin beds (pillows, sheets, bedspreads included), desks, chairs, MicroFridge, 13" television, small clock radio and private bath. Daily housekeeping service is provided.


Internet Access (Wired)

Each room has two ethernet ports connected to the campus network and the internet. Rooms also include extended cable TV service.


Internet Access (Wireless)

At check-in, we will give you information for a guest account on the University's wireless network. Your wireless internet access will work anywhere on campus.


Laundry

The residence hall is equipped with coin-operated washer and dryers for your convenience.


Convenience Store

The
Cypress Bend
market is located on the ground level of the San Jacinto Residence Hall. Summer hours are Monday-Friday, 7 a.m. to 2 p.m.


Security

Access into the residential areas of each hall is controlled 24 hours a day. You will receive a 5 digit code to use during the workshop.

Fire safety devices such as smoke alarms and sprinkler systems are installed in each hall.